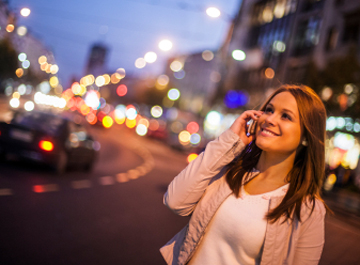 Have you ever been in a long distance relationship? It can definitely be tough not getting to see your sweetie everyday, and it's frustrating when your friends poo-poo your relationship and try to tell you to meet somebody new who is nearby because as they say "It will NEVER work!"
Well, there is one guy, a new on the scene relationship expert named Adam Rabin who says that yes indeed it can work, and his new Destroy The Distance program provides a system he designed specifically to help people make LDRs work.
This is a really unique program so I was eager to do a review of it for you. Also there's the fact that Adam Rabin is a very close friend of Michael Fiore, the well known relationship coach behind programs like the Secret Survey that I've talked about on this site. In fact, the program was published by Fiore's Digital Romance Inc publishing company, so it's not as if this Rabin guy is just some "Johnny-come-lately" with no street cred.
Anyhow, I've reviewed the course and you can read my thought on it below… (Note: If you are a guy, yes this is a pink women's relationship website, but this program is for anyone in a long distance relationship, man or woman…)
What You'll Learn in "Destroy The Distance":
The idea behind Destroy The Distance is simple, to help people in long distance relationship make those relationships last and get better and stronger, better and stronger than even relationships between people who see each other every single day.
The information is aimed at people who live far apart, but it could also be applied to situations where one person is traveling most of the time for business, is off at sea for months at a time etc…
The program gives you a step-by-step system having that relationship you want with your partner, regardless of how far away they are, or what sorts of obstacles you run into in your relationship… For instance, many times people in LDRs will be consumed by anxiety, and worry about their partner cheating on them. This can lead them to text and call their long distance lover all the time, saying I love you over and over and over again. while this might seem like a good way to stay on your partenrs mind the truth is that it can actually have the reverse effect and push them.
So Adam has included information on avoiding mistakes like this and instead getting so that you can feel deeply connected and intimate with your boyfriend or girlfriend even though you don't see them all the time.
This is done primarily over the phone, emails, and texts, although there is also some interesting ideas on how to get to see your honey without breaking the bank…
One key part of the program many will find helpful is the Long Distance Relationship Commitment Road Map, which explains and walks you through how to deepen the connection and commitment, even while you are apart, and move things forward towards spending your life together, getting married and all that fun stuff!
The course also comes with a bunch of bonuses. The two that are advertised are the LDR Repair Kit which shows you how to patch things up if you have already broken up with your long distance boyfriend or girlfriend, and a long distance texting interview with Mike Fiore.
Considering how much most people love texting these days this is an important bonus, and Michael is well known for his expertise in the texting arts… ("Done for you" long distance texts are also included with this…)
My Favorite Part of The Program…
There are a lot of insights in here about long distance relationships that one would be hard pressed to find elsewhere. I think that different things will probably give different people "a-ha" moments, but the big one that I got was in terms of the long distance relationship "traps"…
While it's important to be doing things to strengthen your LDR and make it more intimate, it is absolutely vital that you avoid these traps which can spell the end for your relationship. I think that if people knew about these traps and how to avoid them there would be a much higher LDR success rate.
Plus, the part where Adam shows you what to say to your lover before you get of the phone with them, to ensure that they don't cheat is golden. it feels so much better and safer having this one up your sleeve.
What I DIDN'T Like…
The only problem I saw with this program is that it focuses specifically on LDRs and doesn't go into all that much detail about other relationships. While it does talk about how to apply this info to a close distance relationship, this is a program about LDRs so if you aren't in one it's not going to apply to you much.
My Recommendation:
If you have a boyfriend/girlfriend that lives far away or who travels a lot, this program is something that you are going to want to go through as soon as you can.
I've been in this field for quite a while and I've never seen a program go so in depth on long distance relationship and how to make them successful. The advice makes sense, and the exercises make following through and following this system very easy… definitely a must for anyone in an LDR! Click below for IMMEDIATE access to Destroy The Distance: