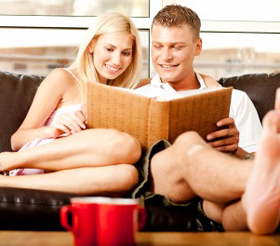 In today's review I'm going to be looking at a program called 2nd Chance – How To Win Back The Love Of Your Ex by Mirabelle Summers. This is a program about getting your ex back, and one thing that stood out to me off the bat was that there are actually two different versions of this program, one for women and one for men.
This review will focus on the women's version, but I've included a short review for guys as well a bit further down the page, just in case you are a guy looking for info… (I'm a man myself, so I like to read the guy's versions of these programs too!)
So, without further ado, let's dive into "2nd Chance"
What is 2nd Chance – How To Win Back The The Love Of Your Ex, and what makes it different from all the other "Ex Back" programs on the market?
This program, which includes a package of downloadable PDF ebooks, and audio files is all about how to get your ex back after a breakup. I doesn't matter if you dumped him, he dumped you, or it was a mutual split up because the system was designed to be usable in any situation.
The program is unique because it goes very deeply into explaining male psychology and what your ex boyfriend of estranged husband is going through emotionally after a break up. A lot of women assume that men don't have as powerful, adverse emotion reactions to a break up because they respond differently than women, but Mirabelle points out that this really is not the case.
As a guy, I can confirm that indeed break-up are devastating to men as well, but so many men are so emotionally stunted and disconnected that we have a much harder time relating to, and talking about our emotions, so a lot of times we just try to dumb the pain with booze and having lots of meaningless sexual encounters…
Mirabelle shows how to interpret your man's behavior and then how to channel his emotion in the right direct – towards loving you, and wanting to be back with you again.
The program also comes with several bonuses including Infidelity Armor for making you relationship "cheat proof", Heal the Rift – for helping to move past the pain and anger in your relationship, and The Love Instinct to win back his love and desire tonight!
The basic idea behind 2nd Chance…
There are a lot of concepts explained in this program, and a lot of tactical advice that you can use in specific situations ie. when you first talk to him over the phone etc… However, when the program advises you on "what to do and say", it does so in a way that allows you to express what you REALLY feel to your man, rather than just feeding you lines to manipulate him with.
One of the big a-ha moments in this course was the idea that your ex is internally conflicted. Yes, there is a part of him that wants to be done with the relationship and to move on, but there is almost always another part of him that is just dying to come back to you. The trick is in connecting with that part of him that wants to come back and then ramping up those emotions.
My Recommendation:
When you are feeling like you need your ex back, it can be a very desperate feeling. I think that this course is an excellent resource because not only does it give you a system for getting your ex back, but it helps you to really understand what is going on with your man so that you will be better able to understand him in the future.
Most relationship problems are caused by misunderstandings, poor communication, build up resentment, and cheating… And understanding why these things happen can definitely help you to prevent them from happening again in the future.
I can't guarantee that this course will get your ex back, but the insights will definitely be helpful, and I would imagine that you'd have a much better chance at getting him back knowing this information. Click Here to see for yourself. . .
******************
Info on the men's version of the program…
If you read the women's review you probably got a sense of the relationship philosophy behind this program. The men's version is similar in that it is a downloadable digital program, which is good because you can get started with it right away.
The program will help you to understand WHY she left, and what is going on with her emotionally. One of the key concepts is understanding that she needs to not only "love" you but she must also desire you and feel a desire to be with you for your relationship to work. While some other "get your ex back" programs for men that I have seen are a bit manipulative sounding, this program shows you more authentic ways to relate to your ex to get rid of the pain and anger and to channel the strong emotions she has been feeling into feelings of love and desire for you. Click here now to try it out for yourself . . .